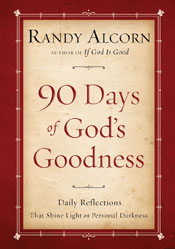 I have always enjoy reading material from Randy Alcorn. His new book "90 days of God's Goodness is another excellent book to add to your collection.
This hardback book focuses on the Goodness of God for 90 days. The premise of this book is how to find comfort in truth while suffering well. Each day has a specific theme and is begun by focusing on at least one section from scripture (both the New and Old Testament are equally used), although there are several days that incorporate two different verses. Randy Alcorn then goes on to explain the verse into more detail and how we may apply these principals to our lives. Each day is then ended with a prayer.
I personally believe that this would be an excellent gift book and resource for someone who is grieving at a time in their life. It truly does focus on "shining light in personal darkness." Whether suffering the loss of a family member or friend, going through an unwanted divorce, or just dealing with the valley's of life, I highly recommend this book. It will help take the focus off of the temporary but replacing it with eternity.
I received this book from Waterbook Press!